Tajikistan cuisine reflects the way of life of all Central Asia inhabitants who cannot enjoy too many ingredients to prepare diversified dishes. The country is poor, and it is almost impossible to cultivate crop plants on its barren land. Tajikistan's climate is not favorable to the cultivation of edible plants as well. 
It doesn't mean, however, that you cannot try tasteful dishes when visiting Tajikistan. Tajik cuisine is simple, but at the same time, it may offer delicious food. Its main advantage is fresh and natural ingredients. When in Pamir, you can find savory Pamir chai tea and fish caught in high-mountain lakes. In turn, exploring the eastern and northern parts of the country, you cannot miss the opportunity to try mutton shashlik and juicy fruits from Fergana. All of these can be topped with a piece of crispy warm bread, 'Naan.' 
The primary ingredient of Tajikistan cuisine is white rice, which is commonly added to many Tajik dishes. The rice is most often served with carrot, potatoes, onion, melons, watermelons, and meat, excluding pork, which cannot be found in Islamic countries. A pig is considered to be an impure animal. 
'NO RUSH' GOLD RULE
The culture of sharing meals is reflected in the temperament and habits of the Tajik inhabitants. The rule "No rush" is commonly known and respected in Tajikistan. Don't be surprised then if you have to wait a bit, whether waiting for the ordered meal or simply a cup of coffee. The habit of eating at restaurants is relatively uncommon as most Tajikistanis cannot afford to eat out. Nevertheless, in the capital city, Dushanbe, many restaurants are open 7 days a week and are full with guests meeting there either for business or pleasure purposes.
 If you want to feel like a local when visiting Tajikistan, you cannot skip these 5 dishes:
5 TOP DISHES OF TAJIKISTAN CUISINE
Plov (Osz)
'Plov' is a symbol and the basis of Tajik cuisine. This dish consists mainly of beef, onion, and sweet carrots stewed with cotton oil. In general, the types of condiments added to 'plov' are a guarded secret. However, most of their liquid forms can be bought at local markets. Tajik women want to support their family budget by selling them.
The other common name for 'plov' that you may hear in Tajikistan is 'osz.' This oily fish is cooked in 'kazan,' a huge iron pot of up to 100 l capacity! 
You can try 'osz' at one of the local markets. What's important is that you should hurry up as the dish sells like a hotcake so in the afternoon you can buy only some leftovers. The oily bottom part soaked with mutton fat may not be as tasty as the upper part. The dish is most often served with a turnip salad, cucumber, and bread called 'naan.'
Depending on the part of the country where you will be given a chance to try this national dish, you may experience different versions of 'plov.'
 

Qurutob
This dish is considered a legend and a national treasure of Tajikistan. The name already reveals the essentials for the dish's recipe. 'Qurut' means salty cheese balls, a typical snack in Central Asia, plus the second-word element, 'ob,' meaning simply water.
'Qurutob' is prepared from soggy dried salty cheese balls with floating pieces of toasted bread. You will find such ingredients as tomato, cucumber, onion, meat, fennel, parsley, and hot pepper on the top of the dish. Similarly, like 'plov,' the whole dish is cooked in one giant bowl.
'Qurutob' can be prepared either in a vegetarian version or can include some meat. 
Don't be surprised if you see Tajik people eating 'qurutob' with their hands. It's their tradition.
Trying 'Qurutob' in the capital city, Dushanbe will cost you only a few somonis. 
Szurbo
If you have ever tried a broth, 'szurbo' is quite similar to this soup. Apart from carrots, Tajik people add to 'szurbo' some potatoes.
The specific version of the traditional 'szurbo' is 'fair szurbo,' additionally including soggy bread.
As you may have already observed, bread in Tajik cuisine is as essential an ingredient as rice. The most popular type of bread is 'naan' or 'non.' 'Naan' in Tajikistan is nearly sacred. You cannot throw it away. The fresher, the tastier, while the staler, the worse!
Mantu
In many world cuisines, we can find different types of dumplings. Tajik cuisine cannot be worse as it also has its own dumplings version, called 'mantu.' Their shape and size can resemble a bit flattened onion.
Mantu's filling consists of stewed onion and lamb meat. The dish is served with thick cream.
This dish is said to appear in Tajikistan thanks to Turkey. In various Tajik regions, you can try 'mantu' with different fillings. 
Mastoba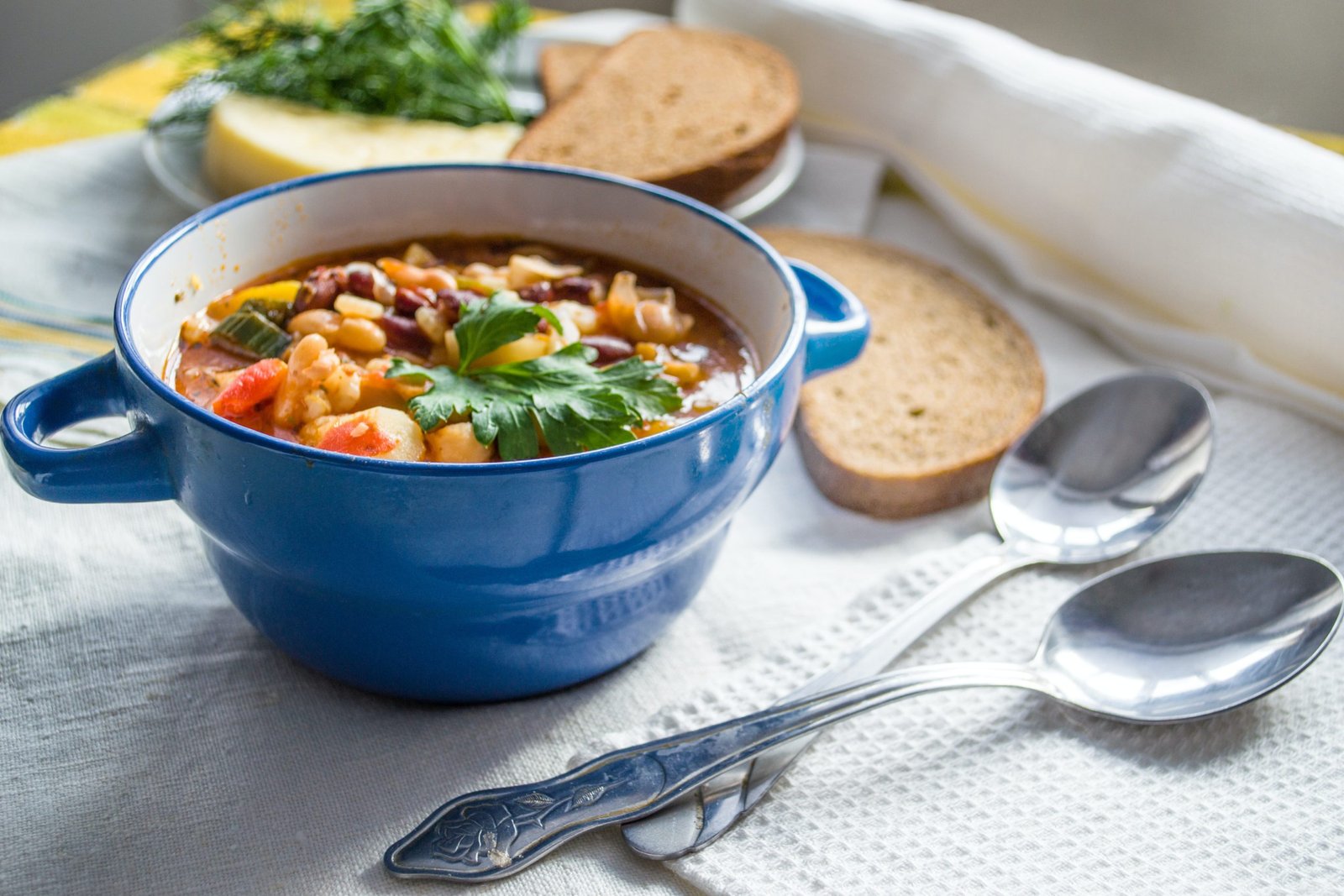 Apart from 'szurbo,' another popular soup in Tajikistan is 'mastoba.'
Generally speaking, Tajikistan is famous for the culture of eating different kinds of soups.
What's characteristic, they are often filled with plenty of ingredients ideal for a satisfying lunch. All Tajik soups are spiced with seasonal herbs. 
Chai Tea
Now, you may probably wonder what you can drink when trying all of the abovementioned dishes.
When in Tajikistan, you will be offered a cup of tea every step of the way. Chai tea in Tajikistan is immortal; it's not simply a beverage but a lifestyle. When drinking chai tea, Tajik people discuss both big topics and trivial ones. Chai tea defines their life. If offered chai tea, don't refuse it. Feel like a local sitting at a Tajik house and drinking a traditional tea.
Final words
Tajikistan is a poor country with simple traditional dishes. Tajik people can prepare tasty meals from a few simple ingredients. 
Explore the real Tajikistan trying tastes of the national Tajik cuisine. When carrying a Tajikistan e-Visa, nothing can stop you from the Tajik food experience. Obtain your e-Visa within 3 days and make your list of must-try dishes!